Leah Williams - Owner/Designer of Ruby Mae Jewelry
"Here's to strong women. May we know them. May we be them. May we raise them" ... Author Unknown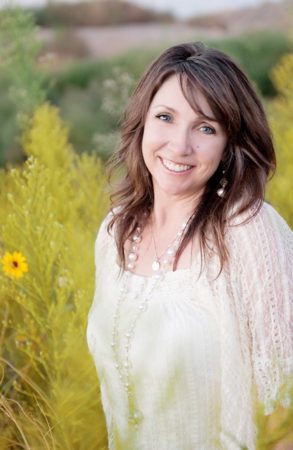 Ever since I was a little girl I've always admired strong women. Kate Jackson was the "smart one" on Charlies Angels. As a youngster I liked making creaive things.  I would embroider wash cloths in high school and I loved gluing sequins on t-shirts. Ahh, the bedazzled 90's. I had made gem earrings and bracelets for about ten years before I stumbled onto vitage buttons.  In April of 2011 I attended a street fair where I  saw button crafts for the first time. I loved the idea but wanted to put my own spin on it and inspiration hit while browsing at Cheap Thrills, a vintage shop in Phoenix, Arizona. There I found some beautiful vintage buttons and knew they would be perfect for a bracelet. I bought them, came home, grabbed my jewelry-making tools,  spread my newly bought buttons out on the kitchen counter and got to work. The concept of Ruby Mae Jewelry was born!
Aside from jewelry making I work in live sports television. I graduated from ASU with a degree in Broadcasting and I'm currently a freelance  stage manager for sporting events like NBA, NHL, game shows and telethons. I mostly work Phoenix Sun games but over the past 25 years I've worked just about every type of telecast there is.
I  love living in Arizona & I'm happily married to my high school sweetheart. We are raising threeboys who seem hungry at all times. I'm from a family of 7 kids & a long line of strong, creative women who had long, supportive marriages. I strive to make them proud and myself productive. My motto is, "Where there's a Williams there's a way". Once in a while I hear my boys repeat it and I feel good knowing they  are getting themselves out of a jam.
My Mother, Patty Mae Snedigar Jacobson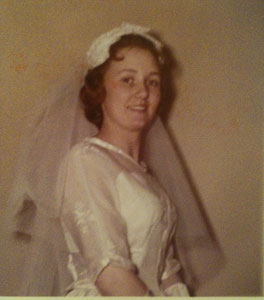 My mom was born March 28, 1942 in Sidney, Montana to Eldon and Ruby Snedigar. She married Roger "Jake" Jacobson shortly after high school and together they raised 7 kids in Colorado, Oregon, Texas and Arizona.  She was raised in White Sulphur Springs and Sidney Montana and Watford City, North Dakota. She was an incredible seamstress and as a teenager would buy fabric in the afternoon and whip it up into outfit to wear on a date that night. She made her own wedding dress and decided to make my wedding cake even though she had never made one before. Seventeen Betty Crocker cake boxes later we had a beautiful, tasty, 3-tier wedding cake. She believed in herself and was willing to try anything. My mom taught me many things. She was always on a tight budget but refused to sacrifice style. She could find treasure in a pile of  junk at a garage sale or a thrift store and loved to re-upholster, remodel, refurbish and re purpose. She showed me creativity by making my Barbie furniture out of oatmeal and Velveeta boxes. She showed me kindness in the tone of her voice with strangers. She instilled in me the importance of giving something thoughtful to someone else.  Her last Christmas with us, the gifts she gave us were objects from her home. She knew that these items would be meaningful to us, her children and grandchildren, and she  included a personal note telling us why she had chosen these objects for us. My folks were married almost 50 years and their love story began when they were eleven-year old classmates. They co wrote and self published a book about their life together and raising kids. It's titled Dimes Were Hard To Come By and it's a real treasure to read. She had a great sense of humor and as a teen, dreamed of being an opera singer or going to New York to study fashion design. Instead, she found her true calling as a wife and mother.
My Grandmother, Ruby Ione Collins Snedigar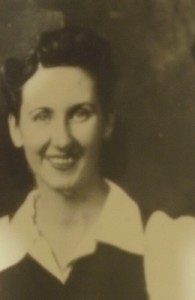 My grandmother was born on June 26, 1921 in Mona, Montana. She married Eldon Snedigar on September 20,  1939, in Sidney, Montana. She wore a royal-blue velvet dress and one of the wedding gifts listed in her wedding book was a water pail and dipper! What a sign of the times. Together they raised five children. Shortly after marrying my grandparents became farmers. Grandpa Eldon left farming to work construction jobs and eventually became a self employed carpenter. They had an entreprenuerial sense about themselves and bought a motel in White Sulphur Springs, Montana that Grandma Ruby ran and maintained.  I remember visiting it as a child. She  was known as a great cook. She canned fruits and vegetables that she grew herself in her small garden and helped with the processing of the meat that the men in the extended family hunted. She was fearless. Her youngest daughters, Carol and Debe, would sit on a tree stump outside the chicken pens while she went in to wring the neck of a chicken that she was going to cook up for dinner. My mother, Patty, would always tell us kids that her mother claimed to prefer the chicken neck over any of the other meat. Most likely she just wanted to give the best cuts of the meat to her husband and children. Though my grandmother was raised and continued to live a rustic, hard-forged life well into adulthood she was not without panache and style. She would speed along on her very own snowmobile wearing a bright red jump suit and furry hat.
She loved to wear necklaces and would throw jewelry parties in her home.She had a great love of family and was a good friend to all who met her. She had great burdens to bear as a woman with her older children in distant areas of the U.S. and the loss of her in laws and husband within four months of each other. Ruby's strength through tough times has helped the women in this family push on through our own hard times.  We are made of some pretty sturdy stuff we Snedigar/Collins/Jacobson/Williams women. We draw strength from our roots and continue to be strong, independent and forward-looking. I'm so proud to be the grandaughter of Ruby Ione Snedigar and the daughter of Patty Mae Jacobson.
 Written with contributions from Debe Snedigar and Amanda Jacobson. Excerpts from Grandma Rubys' wedding album provided by Carol Anderson.