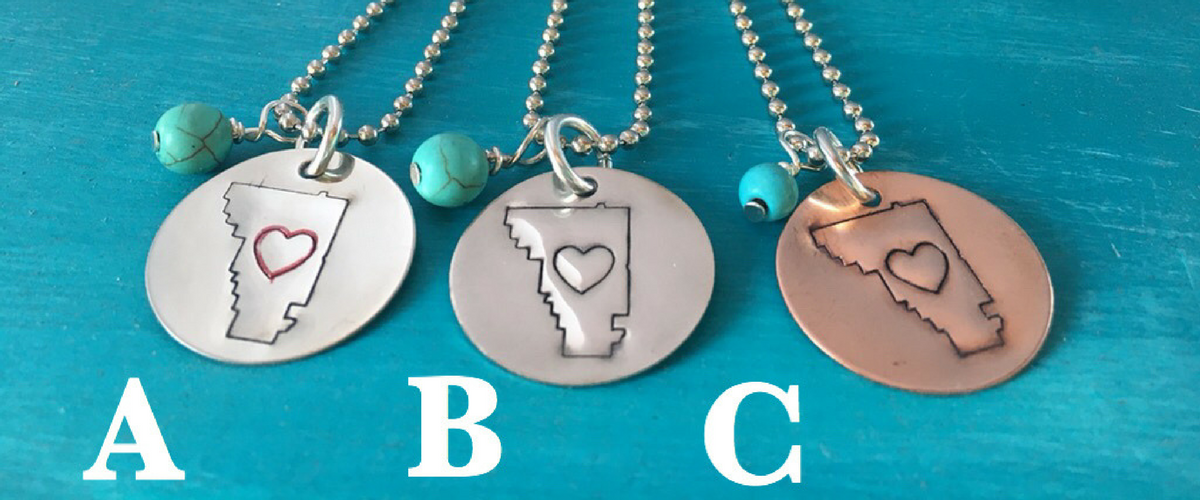 Early June, 2017 I stopped by Everyone Loves Flowers within Barnone in Gilbert. I met shopper Miissa who was buying one of our hand stamped initial charm necklaces. We struck up a converstaion and I mentioned our copper I Heart AZ charm necklacs. She bought one sight unseen. Milissa mentioned it would be great to have a Heart of Gilbert charm showing the boundaries of Gilbert. During our conversation, local journalist Matt Dallas stopped by as he was out visiting shops within Barnone. Milissa knew of Matt thu  Linked In. Small world. Milissa mentioned Gilbert Cares, a local non profit that helps senior citizens by having young people assist them where needed. So I've desided that a portion of every Heart of Gilbert sale will go directy to Gilbert Cares.
Next, I had Tanya from the Town of Gilbert confirm the city boundaries and then I reached out to my custom stamp maker with a sketch of our idea. Three weeks later I had the stamp.
Once we had the stamp in hand, my dad set to making them. Positive feedback has been terrific and we hope they are well received. To cast you vote of which one is your favorite, go to the Ruby Mae Jewelry Facebook page and leave a comment for your top pick. One lucky winner will get to choose and keep their favorite one. The winner will be randomly picked and announced Friday, August 25, 2017 at 5pm.